JOSEPH C. BECHERER MEMORIAL TROPHY
Horticulture Sweepstakes - Midseason Show
By Jim Morris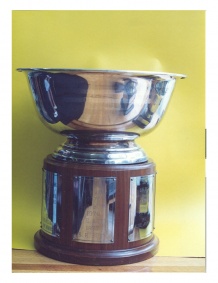 The Joseph C. Becherer Memorial Trophy is awarded for Horticulture Sweepstakes to the person with the most blue ribbons in the GSLIS Midseason show. This traveling trophy, first offered in 1961, is our club's oldest award and was named in honor of Joe Becherer (1872-1959) of Affton in St. Louis County, MO. Joe worked for the Nichol Seed Co., Missouri Botanical Garden, then with various St. Louis florists, and finally owned and managed Becherer's Gardens, a landscaping and perennial plant business in the Affton/Lemay area.
He began introducing irises in 1947 at age 75. Some of his irises included '
Morning Melody
' (48, TB), '
Honolulu Belle
' (R. 45, TB) and '
Hiwassee
' (R. 45, TB). His most popular introduction, which I grew for a number of years, was '
Snow Goddess
' (55, TB). Tell Muhlestein commented on '
Snow Goddess
' in his 1955 catalog (priced at 25 cents):
"This gorgeous, big, ruffled, wide-petaled warm white (due perhaps to the yellow beard) stole my heart last spring and appears to be the very best of the many fine '

Snow Flurry

' seedlings I have seen thus far, and this is saying much for we all know the quality this wonderful breeder has given its children. A credit to this great hybridizer of long experience. Heavy, well branched, 38-inch stalks. $20.00 Tell's Iris Gardens, Provo, UT."
'
Snow Goddess
' received the Award of Merit from AIS in 1958, one year before Joe Becherer died at age 87.
GSLIS first awarded the Becherer Trophy in 1961 to Salee Kieferle, a close friend of Louise Bellagamba. The trophy has been awarded annually except in years in which no show was held. Past member Sheldon Butt of Godfrey, IL, won this trophy 18 times from 1975 through 1993, except for 1981 when we had the AIS Convention in St. Louis and he was busy as Registrar/Treasurer. I first won it in 1973 (in an absolute tie with Louise Bellagamba) and didn't win it again until 1994 after Sheldon's death.
The complete list of
Horticulture Sweepstake winners at our Midseason Show
follows:
1961-1962 .....Salee Kieferle
1963-1965 .....Dorothy Palmer
1966 ..............Harold Schaan
1967 ..............Inez Stallard
1968 ..............The Wurls (Russ & Betty)
1969-1970 .....Clara Clark
1971 (tie) .......Clara Clark & Inez Stallard
1972 ..............No Show
1973 (tie) .......Louise Bellagamba & Jim Morris
1974 ..............Louise Bellagamba
1975-1980 .....Sheldon Butt
1981 ..............Alice Johnson
1982-1993 .....Sheldon Butt
1994 ..............Jim Morris
1995 ..............Robert Cranor
1996 ..............Riley Probst
1997 ..............Jim Morris
1998 ..............Riley Probst
1999 ..............Jim Morris
2000-2001 .....No Show
2002 ..............Jim Morris
2003 ..............Jean Morris
2004-2005 .....Jim Morris
2006 ..............Riley Probst & Shirley Trio
2007 ..............No Show
2008 ..............Jean & Jim Morris
2009 ..............Jim Morris
2010 ..............Jean & Jim Morris
2011 ..............Cindy Rust
2012 ..............Jean & Jim Morris